The most important and amazing part of life? Love.
With love comes happiness, excitement, attention, thoughtful gifts, sweet time, and cute surprises together.
However, it doesn't mean you have to wait for love to come along with a particular person. Sharing a bond full of love can be special with your mom or dad or friends, too.
Although today, we will talk about boyfriend love, so let's stick to that. What are some of the best romantic surprises you can give your boyfriend? How can you make your boyfriend happy on his birthday? What can you gift your boyfriend?
In this article, we're listing the 20 best romantic surprises for your boyfriend's birthday! You can choose one, surprise him and put a big fat smile on their face. Let's go.
20+ Romantic Surprises for Boyfriend's Birthday!
We are all aware that women are the most excitement-filled creatures on earth when planning something for their loved ones. They get too excited and eventually confused about what to do when to do it, and what surprise to prepare for their better half's birthday. They focus on the right idea for that perfect gift.
Planning something for your loved one's birthday can quickly get from exciting to stressful in a small span of time. One second you're the leading party planner in the room, and the second minute you're overthinking your decisions.
Not having a proper surprise idea for your boyfriend's birthday can become problematic, and you may end up feeling bad for not nicely surprising your boyfriend.
Don't worry. We are here with the cutest birthday surprises for your boyfriend. You just have to select one, and make your boyfriend happy on his special day!
1. Birthday party
Some of the most cherishable moments come with numerous good friends at a surprise birthday party. Everyone takes a day off and meets up to share quality time and reminisce about beautiful old stories. A birthday party is a great way to surprise your boyfriend and give him quality time to spend.
Who should you invite to his birthday celebration?
It depends on your partner's nature. If he's always cool with the family members, invite them all over without a doubt. However, if he seems to be a non-family person and is closer to his friends, invite all the tight, good friends.
If he's comfortable with both of them, it's going to be a blast surprise birthday party that he'll ever have in his life.
Here are some supplies that you may get:
Lastly, if he does not prefer loud parties and a vast crowd. In that case, you can plan a party for just the two of you, taking him to his favorite place and showering him with a romantic dance, delighting dinner, cute gifts, and a never-ending soothing conversation.
2. Gifts to remember
As a symbol of your love for him, you can choose to give him a surprise gift that he will never forget, like some uniquely designed personalized jewelry—a ring, a bracelet, or a sweet pendant.
You can have a personal message in the jewelry as you like by using your names, birth dates, or anything special that you both personally share. If you are thinking of a bracelet, you can add in loving words for him. 

Moreover, you can append a secret message for him inside the ring as rings are the most precious jewelry gift to give to the person you love. Such unique gift would let him know how important he is for you and how much you care. If you go for rings, various personalized rings are available for couples.
3. Favorite dish
The way to your husband's heart goes from his stomach.
Just like that, all men love to eat their favorite tasty dishes on special occasions. How about you prepare his favorite dish on his birthday? 

I've never been a materialistic person when it comes to dating. Therefore, whenever I had to give a gift to my significant other I always focused on something more thoughtful than any material thing I could think of. It's a better way to show you care and meaningful.
How touched he may feel while eating his favorite dish from the hands of his love? If you don't know about his favorite meal, you can call & ask his mom or close friends and start preparing. You can add a bottle of wine and play his favorite movie for as a perfect way to end the night.
4. Trip with your love
Another great birthday surprise is a pre-booked couple trip. You can book a trip with your partner and take him somewhere magical for an exciting week. It could be anywhere like beaches, mountains or whatever his taste is, and spend the whole time talking, walking, and spending lovely time together as best friends.
If you have a budget problem here, you can book a fancy hotel room for a single day. Decorate it with heart balloons, pictures of you together, and bring over a tasty cake, something to eat, and champagne to celebrate this lovely day!
Another good idea to surprise your boyfriend is to take him on a date at the location from where you guys first met or maybe where you guys had your first kiss. It would make the day even more of a special gift for him!
5. Gadgets
Undoubtedly, everyone knows how precious gadgets are for all men. Surprising them with a gadget they have been drooling for, can be a romantic gift on his birthday.
A gadget can be anything like smartphones, laptops, or video games. You are fortunate if your partner is more into video games stuff. Gifting him the new Playstation or Xbox will make him jump on the bed like a kid.
Gadgets can be so precious and unique for guys because the playful little kid stays inside them no matter how much they grow up. Gift a gadget to your lovely partner and stay with him all the time—this would remind him of you every day.
One of the best gifts I've given my boyfriend is a this beautiful charging station where you can customize it and have all of his devices charge at once.
6. Romantic collage of pictures
Handmade surprises will also work like black magic on boys, especially if it's a montage of your happy pictures together. You can add photos of the precious moments you have spent together to date and many more to come.
All you have to do is stack all the beautiful moments in pictures and start making a collage. Don't forget to paste cute stickers all around. If you would like it into a shape of a heart, you can order this beautiful frame for your pictures. PERFECT for any gift.
Next, you can frame it so that he can hang it on the wall of his room. The collage will remind him of you, and every lovely moment you guys have spent together whenever he looks at it, which is unique and romantic.
7. Magical basket
How about you surprise him with all of your emotions wrapped up in a magical basket? Well, quite a good idea.
Take a big basket and decorate it with ribbons and love stickers. Next, start adding all the stuff that he likes in the basket—
it can be a picture of you together,
a new video game,
his favorite book to read,
a photo book of your lovely chats,
his most good-looking Instagram pictures,
tickets to a new movie
or simply anything that he likes.
Anything he adores will be appreciable if you put it in the basket and give it to him. Magical basket can really be a magical surprise on his special day!
8. Make his day
You can make his day even more special by planning something unique. Prepare small gifts connected to special memories, and take him around the city, asking to open presents at different locations. It'd be like a 24-hour surprise hamper, with multiple surprises in a single day.
You can keep all the gifts in one basket and write different things on each to remind you when to open them. In these gifts, you can wrap small details that you share in this relationship, like:
the first picture together outside,
the moment you both enjoyed life so much,
the funniest picture together,
and you can include anything you would love to give him on his special day.
9. Video of him waking up to you
Before waking your boyfriend up, start recording a video of you wishing him a birthday full of cheers. Talk about all your loving memories together and how grateful you are to be with him in this world.
When your boyfriend wakes up and sees all the love, he'd be so happy, and that's what's called the perfect start of his special day.
To make it super special, you can secretly ask some of his family members and close friends to record a small clip wishing him and giving him a lovely message on his day.
Ask them to describe how important he is to all of us. Then you can add all the clips together and make a special video to show him when he wakes up!
10. Surprise in the trunk
This is one of the most customary birthday surprises that you can plan for your special one. All you have to do is secretly decorate your car trunk with flowers, balloons, gifts, cake, and pretty pictures of you together. Fill up the trunk with beautiful moments that you have spent together.
Then ask your partner to go on a long drive with you and wait for the perfect moment. When you think it's time, ask him to park at a particular place (like the spot where you guys met for the first time) or anywhere that feels romantic.
Now, get him out and ask him to open the trunk and surprise! He'd be so happy, especially when he wasn't expecting that kind of a surprise.
11. Paintball with all the buddies
Why not organize a paintball session if your partner is more into games and sports with his buddies? Invite all his friends to make his day super duper special with colors and lots of fun together.
12. Tickets to a game
Buy him tickets to a public screening of his favorite sport or a live game, and watch it together.
This would be enough to tell him he's so lucky to get a girl like you, who understands his passion. Watching the game from so close will really warm his heart on his exceptional day.
This is an excellent way to make him feel important and help him understand that you treat his priority the same way he does and care about him the most. You can even invite a few friends over to go along if you wish to have fun together.
13. Write him a card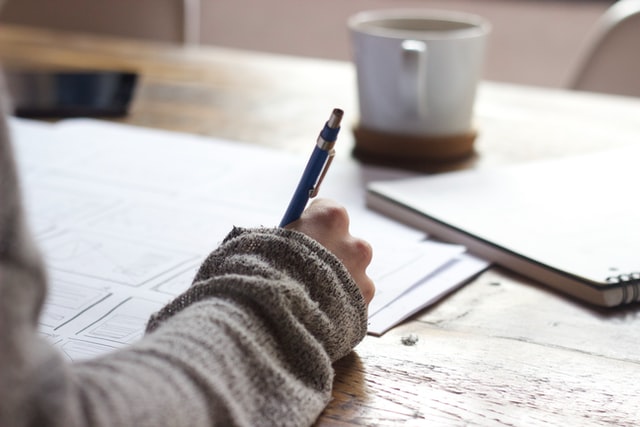 This is probably my favorite romantic surprise you can give your boyfriend on his birthday. Giving someone a handmade written card is one of the purest love forms to show how much you care for them and appreciate their existence and love.
It can also work immensely well for couples staying in long-distance relationships, making happy memories. All you have to do is make your partner an extraordinary card all by yourself with your creativity and love.
You can start by describing happy memories you have made together, paste a few memorable pictures, do some cute paint, paste love stickers, and finish it with all the creativity you want.
14. A midnight surprise
Midnight surprise ideas are always successful and the perfect start to anybody's special day. You can plan to decorate a room with some close friends and get a personalized cake (use the flavor he loves), along with a few drinks to celebrate his surprise party.
Prepare everything before midnight, and take him to the spot blindfolded. Wish him "Happy Birthday!" together, when it touches 12 in the clock, turn the music on and start celebrating to make him feel special. Using only a little help from his friends will make this birthday the most memorable one for him.
Maybe after the party, you can go on a late-night long drive and see the sunrise together, which is so romantic and special to do with your partner.
15. Candlelight dinner
Candlelight dinner is a pristine idea, but it never goes out of style. The best way to treat your loved ones is by asking them out for a candlelight dinner together. Make it way better than your typical date nights. It'll be such a sweet surprise.
You can send him a rose bouquet and a happy birthday card, along with new clothes for a date night. Add information in the card about when they should get ready, and then pick them by yourself. You can make it even more special by wearing a similar color as his attire.
Moreover, you can even plan a surprise cake for your boyfriend or spend the birthday night romantically, with love talks while eating, dancing, walking, and having purely fun.
Candlelight dinners are romantically classic and could make the person feel really special on his birthday. It could probably make him fall for you all over again!
16. Birthday countdown mails
Everyone has a significant level of excitement on their birthdays. To make this even more precious, you can start sending them birthday countdown mails seven days before his birthday.
Each day, you can send him large detailed paragraphs about how important he is for you, reminding him of beautiful memories that you have lived in the past together.
This way, you can make him feel special every day before his birthday, which is so romantic and the best thing one can do to show him how much you love and care.
17. Memories in a jar
Happy Jar is one of the best handmade gift surprises you can give to your partner.
All you have to do is take a big glass jar and start making small, colorful sheets with special memories written on them. You can add his favorite candies or chocolates in the jar too. Now decorate it with colorful ribbons and heart-shaped stickers to make it more special.
Trust me, this is one of the purest love forms you can show someone and the best surprise to give your loving partner on his special day.
You can also get this AMAZING Jar. This gift consists of a glass jar decorated with ribbon, containing 365 different romantic love note.
18. Seven gifts as seven promises
Sweet promises can be the most thoughtful gestures in any relationship. How about you give him seven promises right on his birthday week? All you need to do is prepare seven different and lovely promises, write them down on colorful paper, wrap them beautifully, and give one each day until his birthday.
Just like that, seven different promises for seven days will be so romantic and memorable for him.
19. A short film
A romantic couple film can be really precious because it takes time to create, and you can add years of moments and memories in a short video.
Start creating a video using short dreamy voice notes with romantic songs running in the background. It can be heart whelming for your boyfriend and emotional for both of you, and it is something that will always remain so personal and special.
20. Be the surprise
If it's comfortable and not uncanny for you, get up and have some adventure. Get all dressed up in a pretty gown, do your hair and put on a sweet perfume.
Bring a cake, a bouquet, a fancy gift, and some chocolates for your partner and show up at his workplace or at his house unannounced to give him the best surprise.
Bottom line
Giving surprises to the ones you love and seeing their smiles stretch wider is one of the best things in the world. Each moment you spend with your partner is special, and when you surprise them on their big day, it can be a memorable time for both of you.
These 20+ romantic surprises for your boyfriend's birthday are really sweet and can work amazingly well. Do try them and let us know how his special day turned out!